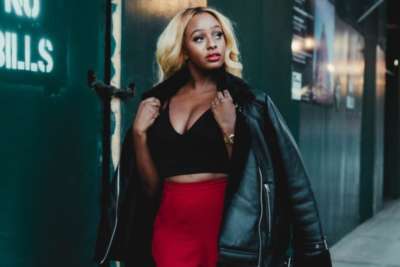 Nigerians are irate that DJ Cuppy chose to speak about the #EndSARS campaign in the country immediately after American rapper, Cardi B expressed concern.
Just a few hours ago, Cuppy took to Twitter to reveal that she has been advised not to speak about the ongoing #EndSARS protests in the country. She added that she had not been physically disturbed by the SARS men but her fans have so felt the need to speak up. However, her statement did not go well with some Nigerians as they dragged her for failing to use her platform to help others.
Some called her out for speaking up only after American rapper, Cardi B immediately expressed concern over the protests while some wrote that she is amongst the rich elite that only care about themselves.
See the reactions below
Cuppy you know how strong your family is in this country, you know you can go against that 'advice' and come out to protest against SARS and nothing will happen to you. You have that influence more than anybody else out there protesting.

Why are you not using it?#EndSARS https://t.co/4Q3KNibljW

— RERE 🧛 (@rereayodele) October 9, 2020
Cuppy implied she was advised to not talk about #EndSARSImmediately And I get it. Some people on my team advised me against it cause of brands and stuff also some were in support and they joined me but at the end of the day nah who Dey alive go work with brands sha. #EndSARS

— AnomalY (@IFE__AKIN) October 9, 2020
What cuppy said is not a lie, the rich & powerful will always tell themselves to stay out of it whenever these issues come up..

— Y.O. (@yojora) October 9, 2020
Cardi B isn't a Nigerian but she was concerned about what was going on immediately she got tagged, but Cuppy a Nigerian said "I was advised not to say anything."
That speaks a lot of volumes.

Dear Nigerians, a reaffirmation the the rich amongst you only care about themselves. https://t.co/CytuQpIlRj

— Duke of Africa (@Allezamani) October 9, 2020
https://twitter.com/DannyWalta/status/1314472217015726080?ref_src=twsrc%5Etfw%7Ctwcamp%5Etweetembed%7Ctwterm%5E1314472217015726080%7Ctwgr%5Eshare_3&ref_url=https%3A%2F%2Ftooxclusive.com%2Fdj-cuppy-dragged-for-speaking-on-endsars-campaign-after-cardi-b-expressed-concern%2F
It was really disturbing reading those tweets from DJ Cuppy. Who are those close to her telling her not to speak on the #ENDSARS issue? Are they mad?

Most of us have not been directly affected by SARS, especially up North. But we all speak out in solidarity with victims.

— Kelvin Odanz (@MrOdanz) October 9, 2020
https://twitter.com/Omoissydeyhere/status/1314368630650474496?ref_src=twsrc%5Etfw%7Ctwcamp%5Etweetembed%7Ctwterm%5E1314368630650474496%7Ctwgr%5Eshare_3&ref_url=https%3A%2F%2Ftooxclusive.com%2Fdj-cuppy-dragged-for-speaking-on-endsars-campaign-after-cardi-b-expressed-concern%2F
https://twitter.com/mr_orero/status/1314469157656821760?ref_src=twsrc%5Etfw%7Ctwcamp%5Etweetembed%7Ctwterm%5E1314469157656821760%7Ctwgr%5Eshare_3&ref_url=https%3A%2F%2Ftooxclusive.com%2Fdj-cuppy-dragged-for-speaking-on-endsars-campaign-after-cardi-b-expressed-concern%2F
I think the reason why Dj cuppy just joined the #EndSarsProtests is because Cardi tweeted about her country problems and foreigner cuppy saw it and had to lend a voice.

— BENUEGIANT🦍😈 (@one_dosh) October 9, 2020
DJ cuppy implied that people around her adviced her against speaking up against #EndSARS but these people don't advice her when we vote her for awards.

This just goes a long way to show that many of these rich people don't care about the poor masses #EndSARSImmediately

— omotayo (@tayobabyy) October 9, 2020
You see that Cuppy's tweet? It is an embodiment of everything wrong with Nigeria. The political elite. People around her are asking her not to speak up against the evil that is SARS. Well, whether she speaks up or not, the word is out.

And it is resoundingly loud: #EndSarsNow !

— Charles the 1st (@9jaBloke) October 9, 2020
https://twitter.com/dailyboxng/status/1314456485972381696?ref_src=twsrc%5Etfw%7Ctwcamp%5Etweetembed%7Ctwterm%5E1314456485972381696%7Ctwgr%5Eshare_3&ref_url=https%3A%2F%2Ftooxclusive.com%2Fdj-cuppy-dragged-for-speaking-on-endsars-campaign-after-cardi-b-expressed-concern%2F
The people around @cuppymusic told her not to join the #EndSARS protest because they are not concerned, this speaks a lot of volumes, if you are on this app and you are not tweeting or retweeting, you are as good as the police officers killing the youths.

— Olamide Agunbiade (Growing Artist) (@OlaAgunbiade) October 9, 2020
Cuppy said she was advised against speaking out in the #EndSARS campaign.
This implies that the rich men in this country profit from the sufferings and deaths of the average Nigerian.

I just wish we the masses will unite and shock this people come 2023.#EndPoliceHarassment

— Ms. Sweet Mouth🍬 (@A_Abby_Abi) October 9, 2020
When it was time for BLM protest, the likes of Cuppy and Burma boy were jumping like their lives even mattered. Now it's police brutality in their own country they're now MIA. I'm pained and shamed of the fact that no Tv station aired the #EndSARSProtest even channels TV. SHAME!!

— King Diego the Blogger (@ebuka_danyel) October 9, 2020